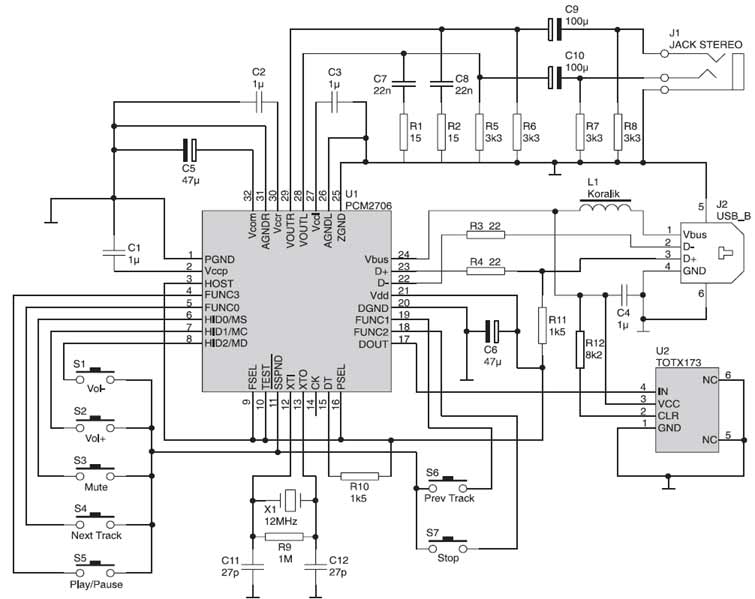 ---
Parts:




1x PCM2706 - 32-PIN TQFP
1x 12 MHz Crystal
1x 1M Resistor
4x 3.3K Resistor
2x 1.5K Resistor
2x 22 Ohm Resistor
2x 15 Ohm Resistor

2

x 100uF Capacitor
2x 47uF Capacitor
4x 1uF Capacitor
2x 22nF Capacitor
2x 27pF Capacitor

Technical Specifications:




Supply Voltage

: 5V
Interface: USB 1.1, USB 2.0
Output Interface: Headphones, S/PDIF
Sampling Rate: 32KHz, 44KHz, 48KHz
SNR: 98dB
THD: 0.006%
Headphone Output Power: 12mW
Power Consumption: 35 - 45mA
OS: Windows 98, ME, 2000, XP, Mac OSX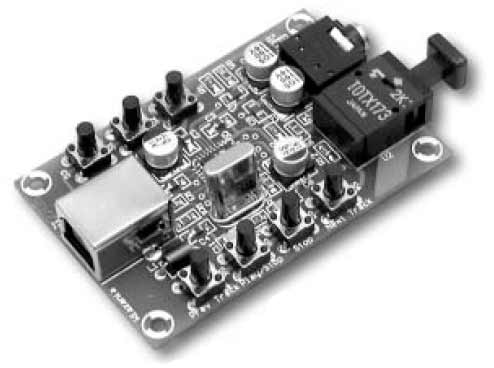 About PCM2706 USB Sound Card / USB Headphones
---
This is a high fidelity external USB Soundcard / USB Headphones project that can be built for your PC or Mac. It is based on the latest PCM2706 IC which functions as a high quality, crystal clear 16-BIT Stereo DAC. It is a single chip digital-to-analog converter that offers two D/A output stereo channels, digital S/PDIF output and requires very few external components. PCM2706 includes integrated USB 1.0 & USB 2.0 compliant interface controller and it is conveniently powered directly from USB connection. PCM2706 is a USB plug-and-play device and does not require any driver installation under Windows XP and Mac OSX.

PCM2706 chip also provides seven functions that are controlled with tactile switches. It provides volume (up / down), Play, Stop, Previous Track & Next Track controls. These functions do not need any software or driver installation and work instantly after connecting PCM2706 to a computer's USB connector.

This project includes double-sided 65 mm x 43 mm PCB layout in the PDF format which you may use to transfer to your printed circuit board. Once you will have PCB ready, soldering PCM2706 chip is not that difficult as it may seem.
PCM2706 Block Diagram
---
---
PCB Component Placement
---